We're thrilled to have you join our community and excited to embark on your health journey together. In this article, we'll guide you through the process of signing up for Nutrisense, ensuring you have all the information you need to get started.


Signing Up: There are two simple ways to sign up for Nutrisense, depending on your preference:
App Sign-up: For those who prefer signing up directly through the app, your login credentials will be created during the sign-up process itself. This means you can login right away with the credentials you create.


Website Sign-up: If you choose to sign up via our website, you'll receive your login credentials via email. The email address you used during the sign-up process will serve as your login username.

Please note: When signing up on the website, make sure you select the Login button on the app,

not

the sign up button. If you did not receive an email containing a password, please select the Forgot Password button.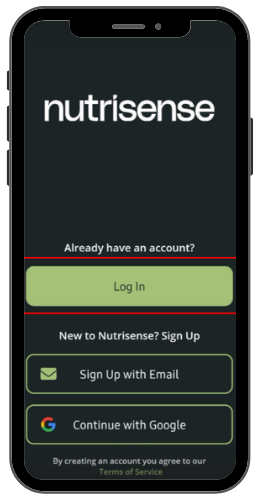 Download the Nutrisense App: Our app is available for both iPhone and Android users. You can find the Nutrisense app for iPhone here and the app for Android here.

Health Questionnaire: After signing up, you'll be required to complete a health questionnaire. This questionnaire is a vital step as it is how the prescription for the CGMs is obtained. The information you provide will be shared with our trusted third-party physicians, who will review your details and, if applicable, write a prescription for you. Accessing the questionnaire is easy — it will be the first thing that appears when you log in to the Nutrisense app.


Support and Assistance: We're committed to providing exceptional support throughout your journey. If you ever have any questions or need assistance, our dedicated customer support team is here to help. You can find more information on contacting customer support here.


Additionally, if you have a nutritionist as part of your program, we highly recommend reading up on what you can expect from your nutritionist here. You can find detailed instructions on how to contact your nutritionist in our "How to Communicate With Your Nutritionist" article here. They will be a valuable resource to help you make the most of your Nutrisense program.
We're excited to have you on board and look forward to supporting you every step of the way. Remember, your login credentials will either be emailed to you if you sign up via the website or created during the app sign-up process. Download our app, reach out to our customer support for any inquiries, and connect with your nutritionist for personalized guidance.


Welcome to Nutrisense!