What is a Nutrisense Protective Patch?


The Nutrisense Protective Patch is an adhesive tape that secures your continuous glucose monitoring device comfortably to your skin. The blend of materials used creates a covering that is comfortable, flexible, and water resistant. When properly applied, it lasts the length of your sensor, providing protection against dislodgment or damage.


Why Should I Use a Nutrisense Protective Patch?

Apart from making a stylish statement that showcases your commitment to your health and wellness journey, the protective patch offers numerous benefits:
Guards your sensor from water damage, including showers, light water activities, and weather.
Enables you to engage in your favorite sports and fitness activities without worry.
Minimizes unintentional damage caused by pulling, touching, or playing with the sensor.
Provides peace of mind during daily movements like changing clothes, towel drying, utilizing your seatbelt, or navigating doorways and other objects.

What is the Nutrisense Protective Patch made of?

The Nutrisense Protective Patch is made from a mixture of cotton and spandex. The adhesive is latex free, hypoallergenic, and 100% medical grade.
What other options do I have?

While our complimentary Protective Patch offers style and functionality, you have the flexibility to explore customizable options from other manufacturers, such as:

How do I request additional Nutrisense Protective Patches?

Requesting additional protective patches is quick and easy through the Nutrisense app, and it's completely free of charge. Simply navigate to the "Programs" section of your app, scroll down to "Add-ons" and select the 'Patch Kit'. You can request a Patch Kit once every three months.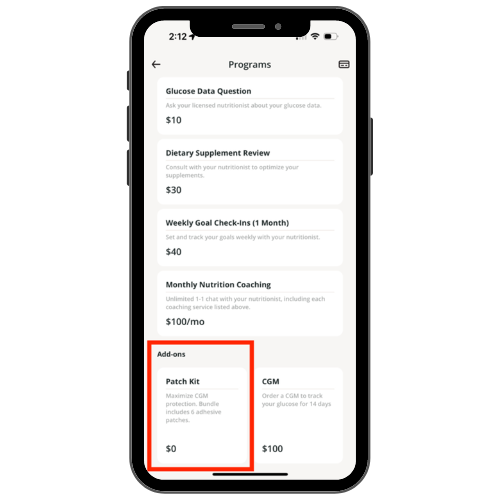 We're here to support your health and wellness journey every step of the way. If you have any further questions or need assistance, don't hesitate to reach out to us through the in-app chat or contact our customer support team at support@nutrisense.io.